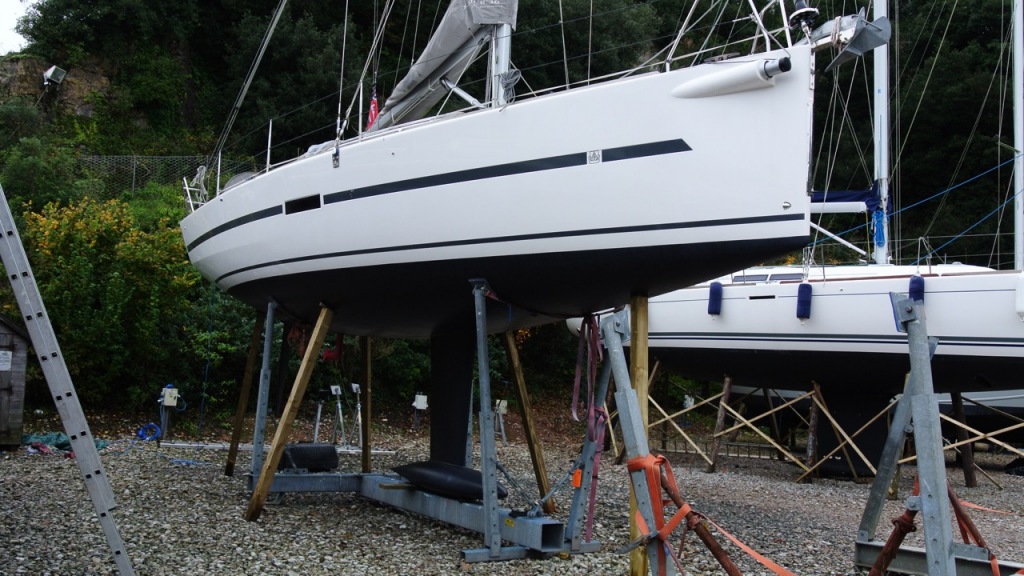 January (and February) is a tough time to find decent days to go out sailing. In recent years, the jet stream seems to set in during these months and we've taken the view to have the charter boats out the water.
This leaves plenty of time for the essential maintenance tasks such as: anti fouling, engine service, replacing the anodes, rig checks (see below) and hull cleaning. Even this can be tough to do when the weather sets in.
Some people take their boats out for just a few weeks or they use the sea lift type systems which may mean the boat is out for a day. Personally, we believe that having some time with the boats ashore gives you a good period of time to check the things you don't see for most of the year – the bit that stays under the water. I can't see how you can do this in a few hours or days.
I often wonder why  people don't bother with annual rig checks; the rigging is the 'engine' of a sailing boat and takes very high loads. An inspection at the top of the mast is vital to see if there is wear and tear on the halyards or a jam. How often have you taken down the fore sail? Good rig set-up also helps the boat sail better. As with everything boat based, I'm sure it comes down to cost. An engine service is your get out of jail card, so many just opt for that.
January also provides us with time to pop up to the London boat show (we haven't had a stand there yet) and catch up with our friends in the industry …. then pretty much everyone takes a holiday 🙂