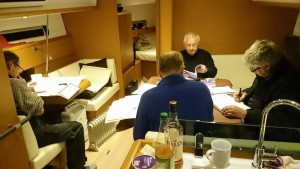 This is not your typical bespoke yacht charter, Plymouth. Just look at these chaps slaving away over their charts as they undertake Yachtmaster preparations! With a DSE bespoke yacht charter, Plymouth offers excellent sailing grounds for them to hone their skills.
As part of their course, they will be expected to pick up mooring buoys under sail – the Tamar makes an ideal spot to develop this skill (https://en.wikipedia.org/wiki/River_Tamar). Close-quarter sailing can be effectively developed in the Plymouth Sound – it is buzzing with boats of all types all year round, so it also makes it an ideal location to develop night navigation. With a DSE yacht charter, Plymouth offers a number of local marinas for crew to improve their marina handling skills. See http://www.kingpointmarina.co.uk/ or http://www.mayflowermarina.co.uk/ or http://www.yachthavens.com/plymouth/ to name just a few. Throughout their training, these students will also be expected to demonstrate how they keep their yacht and their crew safe at all times.
You will be pleased to know that it isn't all work, work, work! With a comfortable, heated yacht to relax on after an active day on the water, the students are able to unwind – perhaps watch a DVD (there are TVs and a selection of DVDs on board our yachts) or visit one of the local pubs.
To find out how Devon Sailing Experiences can arrange your bespoke yacht charter from Plymouth, contact us on 01752 424 514 or email info@devonsailingexperiences.co.uk.