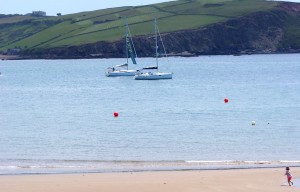 Now that Spring is upon us and we have more hours of daylight, we wanted to update you with information about Devon Sailing Experiences and the yachts you can charter through us.
Our Yachts
We have a number of new additions that can be chartered through Devon Sailing Experiences. All of the yachts (as at April 2016) are listed here.
Jeanneau 409 (Bewitched): Ideal for families or larger groups, this spacious 41' yacht offers 3 cabins, 2 heads, heating and entertainment systems. See http://www.devonsailingexperiences.co.uk/luxury-charter-boats/
Jeanneau 36i (Spellbound): A high performance hull, a powerful sail plan, and a deck designed for safety. This yacht offers a generous cockpit with oversized, leather-wrapped steering wheel. Our version has 3 double cabins. See http://www.devonsailingexperiences.co.uk/standard-charter-boats/ for details.
Dehler 34 (Troppo Bella): Moored on the River Dart, this performance cruiser is an excellent option for couples or a small group of friends. For more information, see http://www.devonsailingexperiences.co.uk/dehler-34-yacht-charter/
Stefini rpd66 (Disco Volante): This Italian 65′ fully crewed charter yacht has a huge cockpit for entertaining, a licensed bar and superb sail credentials. Down below there is a fantastic state room and accommodation for 8. Details: http://www.devonsailingexperiences.co.uk/20-metre-italian-charter-yacht/
Welcome to our newest Team Member
We are pleased to announce a new skipper on the DSE team – Gail Wright. Gail has been sailing for 15 years and is a Commercial Yachtmaster (offshore). She qualified in 2012 following a circum-navigation of the UK.  Since then, Gail has spent her time delivering yachts around the UK and Mediterranean. In 2015 she sailed from Barcelona to Mauritius, a journey of 10,000 miles which took 3 months with brief stops in Gibraltar, Las Palmas, Cape Verde and Cape Town. She is looking forward to running some of our skippered charter experience weekends.
Twitter and Facebook Accounts
We would love to see photos and video footage from your experiences with us, so please keep us updated with anything you would be happy for us to share via our blog posts (http://www.devonsailingexperiences.co.uk/category/devon-sailing-info/), Facebook page (https://www.facebook.com/devonsailingexperiences/) or Twitter account (@devonsailingexp). Follow us to keep up to date with our news and special offers.
Sailing Schedule
Don't forget that our schedule for day sails and weekend sailing experiences is updated on a regular basis. Details can be found here: http://www.devonsailingexperiences.co.uk/devon-sailing-schedule/
Returning Customer Discount Scheme
Don't forget – we offer a 5% discount to customers who re-book charters with us.
We hope to hear from you soon for your summer charter. Wishing you an exciting sailing season!
Nick and Katie Rich