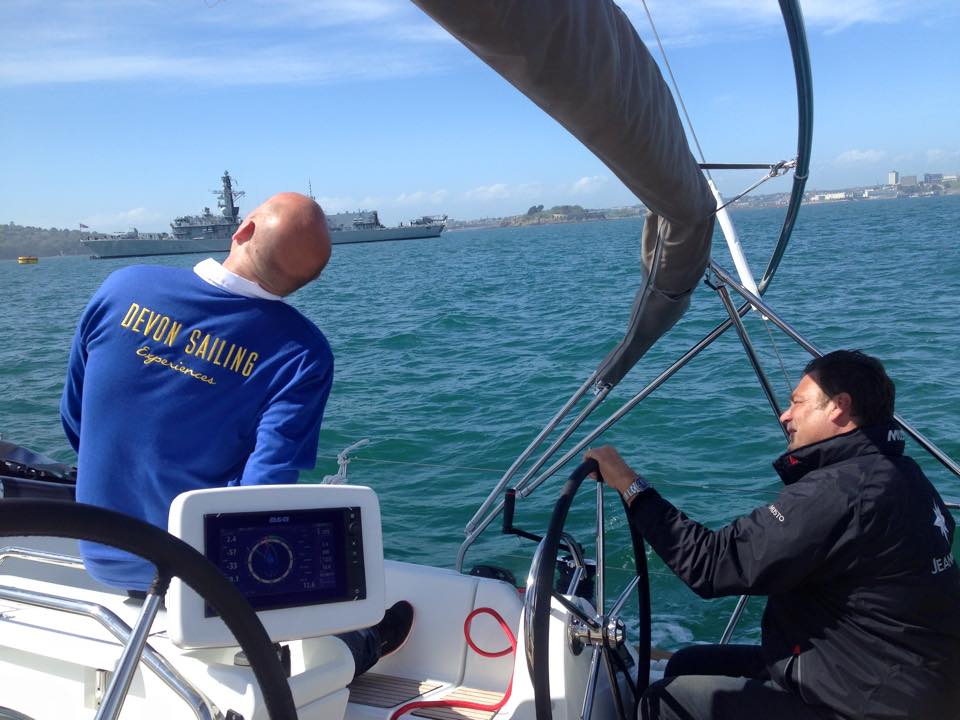 Described as "Britain's coolest little city by the sea", Plymouth is a vibrant, waterfront city offering fantastic sailing ground for your yacht charter. In our opinion, there is no better place in the UK to start your west country yacht charter – that is why we chose it as our base. With it being so easily accessible by train, car and sea, and with so much going on throughout the year, a yacht charter from Plymouth should be on everyone's to-do list.
Local area and Approaches
Plymouth sound is under control of the Queen's Harbour Master, callsign 'Longroom'. It is important to keep a radio watch on 14 and keep up-to-date with military activity and other commercial activity.  In addition to this, King Point Marina is affected by Brittany Ferries and the odd cruise ship, as the marina sits inside the commercial port. Yacht Haven and QAB are affected by the commercial traffic from Turnchapel.
The main feature of Plymouth Sound is the breakwater. If you want an easy life, use the eastern entrance as no commercial or military traffic will use this, but do watch out for dive boats that frequently visit the wreck off Shag Stone.
In general, Plymouth Sound is very well supported by navigational buoys. There is deep water everywhere, apart from the western side of Drakes Island. You do not need to keep to the main channel which is for the larger ships – in general, you are better to be outside of them.
Of course, as always, we recommend you check the Almanac for details.
Moorings – DSE recommends…
Within minutes of King Point Marina is Barnpool which is an excellent anchorage to explore Mount Edgecombe.
Just 30-45 minutes sail of King Point is Cawsands bay which is a popular lunchtime stop, with excellent shelter from south westerlies. You can also go ashore and explore Kingsands and Cawsands which have some great bars and food.
Cellar Bay, tucked just inside the mouth of the River Yealm, is a secluded spot perfect for swimming in settled weather. Deep keeled boats will need to check tide-tables and be aware of the sandbar in the river entrance, but this really is a beautiful place to visit for a picnic spot if you time it right.
Eating and Drinking – DSE recommends…
The Dock is based on the first floor of the £4m King Point Marina building in the coastal quarter. Overlooking the marina, it is a lovely relaxed restaurant serving delicious breakfasts, lunches and dinners. (We go there quite often!)
A 12-minute stroll from King Point Marina will take you to the Royal William Yard. Within its beautiful, historic buildings, you will find a number of places to eat, including River Cottage, Seco Lounge, Wagamama and Le Bistrot Pierre. Personally, I love Le Vignoble for a pre-dinner drink. A wine bar with a difference! Here you can choose from over 200 wines from all over the world, sample tiny tasting glasses or sit and enjoy a large glass after a day out on the water. Also available is a great tapas menu and regular special events including wine tasting in a totally relaxed atmosphere – we like how they describe themselves as "not snobby or pretentious" on their website. (I'm sure our next visit is overdue!)
12 minutes in the opposite direction will take you to the Barbican – another historic waterfront location with plenty of bars and restaurants positioned around the dock. It is particularly buzzing during the summer months when the warmer weather sees plenty of visitors eating and drinking al fresco. A wonderful atmosphere which is typical of what Plymouth has to offer.
Things to do – DSE recommends…
No visit to Plymouth is complete without a visit to Plymouth Gin Distillery. Black Friars, the working home of Plymouth Gin since 1793, is the oldest working gin distillery in England. Why not book a tour or a tutored tasting session while you are staying in the area?
Climb the iconic Smeaton's Tower lighthouse on the Hoe. The original tower was built on the Eddystone reef in 1759, but relocated stone by stone to its current position in the early 1800s. Beautiful views of Plymouth Sound. There is a fab clip of Passenger singing from the lantern room last year.
Take a plunge at the art-deco Tinside Lido, voted one of the top 10 best outdoor pools in Europe. Built in 1935, it is a piece of quintessential British seaside from a bygone era.
Plymouth's National Marine Aquarium is the largest in the UK and can be found close to Sutton Harbour and Queen Anne's Battery. Filled with local (and not so local) sea life, this wonderful, all-weather education centre is definitely worth a visit for adults and children alike.
The Plymouth Pavilions host a range of performances: John Bishop, Mickey Flanagan, Jimmy Carr, Ricky Gervais, Elbow, Passenger (see clip – I had to add it to this blog post twice because I think it's fab!), Kaiser Chiefs, Craig David, Billy Ocean, Jools Holland, Professor Brian Cox (I tried and failed to get tickets earlier this year for Nick's birthday)…I could go on. If you are chartering from Plymouth with us and staying in the area, it is always worth checking out who else is in town.