As our busy 2019 sailing season draws to an end (a little earlier than last year due to the weather), we thought we would update you with our plans for the 2020 sailing season. Below you will find information about our 2020 sailing schedule, gift vouchers (ideal for Christmas!), our efforts to reduce single-use plastics, RYA courses and 10% discount for bareboat charter returning customers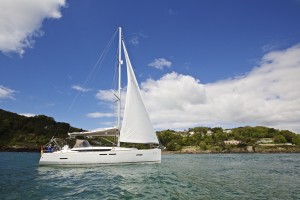 Our 2020 Sailing Experience Schedule
Dates for 2020 day sails and weekend sails are now listed on our sailing schedule page. Our longer group sailing experiences are scheduled on demand – please request a date and book your place early to avoid disappointment; they were very popular during 2019. You may book your sailing experience directly from our website. As always, we will add more and more dates throughout the season. If you can't see a suitable date just get in touch and we will do our very best to help you.
Sailing vouchers make great gifts for Christmas
Looking for a special gift for the person who has everything they need? We recommend a Devon Sailing Experiences gift voucher. When your friend, colleague or loved one receives their voucher, they can go to our website and book a day sail or weekend sail at their convenience. An ideal gift that will create long-lasting memories.
Got a sailing voucher? Don't let it expire!
If you have a voucher for a sailing experience, we recommend that you book your place as soon as possible, as we get very busy during the summer months. You can follow this link to the sailing schedule. Your sailing experience must be booked within 12 months of the purchase date. This date is stated on the covering letter that accompanied the voucher. It is important to bear in mind that as we approach the end of the season (September/October) fewer dates will be available due to weather and sailing conditions, so please give yourself plenty of time to book.
As always, if you cannot see a suitable date, just get in touch to request one – we will always do our very best to help.
Skippers for 2020
We are sorry to say goodbye to Emmanuel Farrington who will be leaving our team at the end of the season. She will have completed her BSc Marine Biology and Oceanography at Plymouth University and will be off travelling the world. We wish her all the very best and will miss her energy, enthusiasm and expert skippering skills.
Mick Chantler, Trevor Kirkin and Tim Sunderland will continue to skipper our day and weekend sailing experiences. We will also be joined by some new faces next year – details to follow.
Plastic-free Plymouth
Inspired by PlasticFreePlymouthSound and  SavingTheEarthOneTipAtATime, Devon Sailing Experiences are pledging an attempt to reduce our single-use plastics. As with all habit changes, we are taking it one step at a time. Our first focus is on water bottles. Read about our plan in our blog post, and don't forget to follow the link to our Facebook page to leave your opinion on our approach (or share your ideas).
RYA Sailing Courses
Devon Sailing Experiences continue to run RYA Start Yachting, RYA Competent Crew and RYA Day Skipper (practical) courses. RYA courses are scheduled on demand. You are very welcome to request a date to be added to our schedule, however, we are only able to run a course with a minimum of 3 students. All courses are subject to yacht and instructor availability.
Bareboat Charter
Our Bavaria 38 will be available for bareboat charter from Mayflower Marina from April 2020. Don't forget – we offer a 10% discount for all returning customers. A 20% deposit is required to secure a date for you, with the remaining payment being due 4 weeks before you sail. If you would like to request a date, do get in touch.
Terms and Conditions
By booking with Devon Sailing Experiences, you are accepting our Terms and Conditions. Please ensure you have read these before booking. We politely draw your attention to the paragraph regarding cancellation and rescheduling. If you are unsure about any aspect, please feel free to ask.
Follow us on Facebook, Twitter and Instagram
Keep up to date with last-minute availability and stories from our skippers and guests by following us on Facebook, Twitter and Instagram. Don't forget to tag us in any of your own posts; we love to hear about your sailing adventures so if you have any photos you would like to share (or stories to tell) do get in touch.
We look forward to welcoming you to Devon soon.