Welcome to our first newsletter of 2022, where we offer you a 10% discount on our RYA Day Skipper theory course, fill you in about our plans for the year (it's going to be a busy one!) and introduce you to our skippers.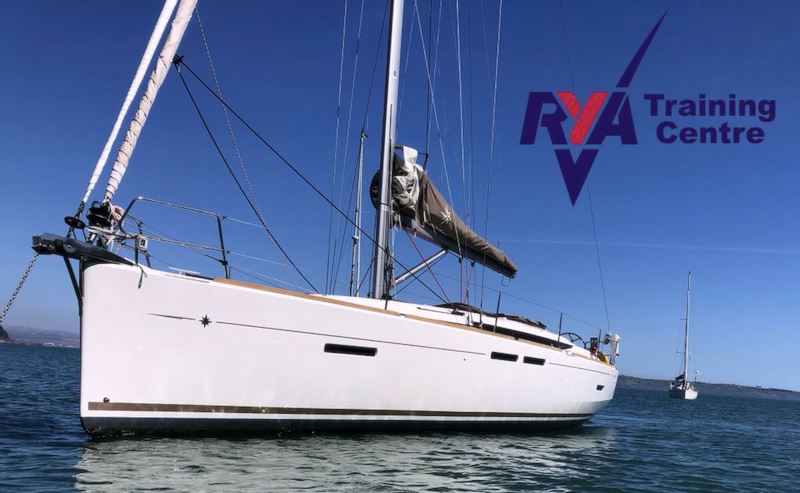 10% OFF RYA Day Skipper (theory)

Devon Sailing Experiences will be running a one-off RYA Day Skipper (Theory) course from Wednesday 13th April until Sunday 17th April 2022. We would like to offer our subscribers 10% OFF. Normally priced at £525 per person, you will get it at a reduced rate by entering the coupon code RYA-DISC10 at the checkout.

5 places are currently remaining, so hurry and book your theory course today. We have no plans to schedule any other theory courses this year.
What is happening in 2022?

Our sailing calendar is filling up fast which is great news for us in 2022. Lots of events/sailing opportunities are scheduled on-demand, so if you can't see dates or events on our sailing schedule that work for you, it is always worth getting in touch to ask – we will always do our very best to help.

In the meantime, we have availability for the sailing experiences listed below:
Channel Islands Cruise (Group Sailing Experience)
Monday 2nd – Sunday 8th May

We currently have 2 places remaining on our 7-day sailing experience to the Channel Islands. Our group sailing experiences are ideal for people who have sailed before but don't necessarily have the experience (or a willing crew) to skipper the trip. Guests have their own double cabin aboard our 42' Jeanneau (no cabin-sharing unless you choose to) with bedding provided. Breakfast and lunch taken aboard the yacht are included. Your overnight destinations will allow you to eat out in the evenings whilst you take your time to explore the Channel Islands at your leisure. If you would like to find out more or book your place with a 20% deposit, follow the link above.

Isles of Scilly Cruise (Group Sailing Experience)
Monday 16th – Sunday 22nd May

This sailing experience is now fully booked, however, we can schedule more dates on demand. If it is something you would like to do in the future, follow this link to find out more. We will happily discuss potential dates with you.

Weekend and Day Sails
Various dates

Weekend sails and day sails are our most popular sailing experiences that are suitable for all levels of sailors. Whilst they offer a good introduction to sailing, they are useful to help build miles and develop skills. Due to the beauty of the southwest coast, our weekend sails are often used as mini-breaks to allow guests to explore fabulous close-by locations such as Salcombe, Fowey and Noss Mayo. Please visit our website to book yourself aboard.

Exclusive Sailing
Scheduled on demand

Our exclusive sailing experiences offer a wonderful way to introduce your family to the water. They are also ideal for special occasions such as birthdays, marriage proposals (yes – that has happened – you can read about it here) or meeting up with friends that you haven't seen for some time. We offer single-day and multi-day exclusive charters. You can read more about it by following the link (above) to our website.

RYA Courses (Competent Crew and Day Skipper)
Various dates

We will continue to schedule RYA courses for our past guests on-demand, so if you can't see a suitable date on our sailing schedule, please do not hesitate to contact us and we will schedule one for you (subject to availability).

Bareboat Charter
Limited availability remaining in May, June and July

April 2022 is fully booked. We currently have limited availability in May, June and July. However, August, September and October currently have plenty of availability, so please get in touch to book. A 20% deposit will secure your date with the balance due 4 weeks before you sail.
Meet our skippers

We would like to introduce you to our skippers and instructors for 2022 (in case you haven't already had the pleasure of meeting them). You will be able to read about their sailing experience later this year in our "Meet the Skipper" blog posts – we will let you know when they are available so watch this space!
Terms and Conditions

By booking with Devon Sailing Experiences, you are accepting our terms and conditions. Please ensure you have read these before booking. We politely draw your attention to the paragraph regarding cancellation and rescheduling and recommend you take out insurance in case of cancellation outside our terms and conditions.

If you are unsure about any aspect, please feel free to ask before you book.
Covid-19

Let's all keep our fingers crossed that 2022 will see a little more normality for us. However, we need to stay vigilant and have plans in place in case of another surge in the virus. If your sailing experience or bareboat charter cannot run due to a national or local lockdown/restriction, we will offer you 12 months to reschedule your booking. If you are unable to reschedule, we will offer you a refund of the money you have paid to us.

Please ensure you have adequate insurance cover in the case of YOUR cancellation due to YOUR personal circumstances (for example, a positive Covid-19 test or your own requirements to self-isolate). Before booking a sailing experience or course, you are welcome to take a look at our latest risk assessment. Please be aware that Devon Sailing Experiences recommend that you take a Covid-19 test before joining the yacht, but is not responsible for checking that all guests have done so.

For further details, please refer to the dedicated Covid-19 page on our website.
Follow us on Facebook, Twitter and Instagram

Keep up to date with last-minute availability and stories from our skippers and guests by following us on Facebook, Twitter and Instagram. Don't forget to tag us in any of your own posts; we love to hear about your sailing adventures so if you have any photos you would like to share (or stories to tell) do get in touch.

We look forward to welcoming you to Devon soon.

Nick, Katie and the Devon Sailing Experiences team.