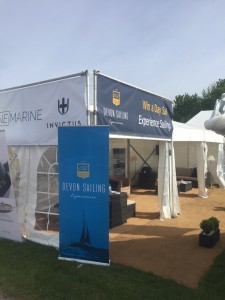 Thank you to everyone who visited us at the Devon County Show this week – it was great to meet so many of you at the Westpoint Exhibition Centre, Exeter. Sailing is our passion, so we were so happy to be there to share potential opportunities with you.
If you have never visited the Devon County Show, you don't know what you have been missing. It is a huge, annual, well-organised and well-attended event. You are guaranteed to find something for everyone there: animals, steam traction engines, displays, local trade stands, food, beer, cider, machinery (lots of big stuff!), cars, fairground rides, games stalls, activities, holiday ideas, hot tubs, exhibitions…the list is endless. Each and every one of the traders we spoke to while we visited other stands was able to give friendly, professional advice and information regarding the service or product they offered. And believe me – Devon has a lot to offer!
We were fortunate enough to chat to huge range people – some who sail regularly, and some who have never set foot on a yacht before. We really hope that the latter group left our stand feeling inspired to visit us in Plymouth and give sailing a try. You now know that if you are staying/living in and around Exeter, sailing experiences are within easy reach.
As for those who already know how exhilarating sailing can be, we hope you are tempted to bareboat charter one of our yachts to explore the beautiful south-west coast.
Perhaps you already have your own yacht and would like us to charter it through Devon Sailing Experiences for you? (Now… there's a thought!)
We were privileged to work alongside Tom and Jamie from One Marine, who bought along an example of the recently launched Invictus 240FX powerboat to display at our stand. Generating a considerable amount of interest at the show because of its balance of style and practicality, it appealed to families due to her high-sided cockpit (which is ideal for taking younger children out on the water). The Invictus 240FX can be fitted with the Suzuki 250hp Lean Burn outboard, which will offer superb performance with speeds up to 40 knots. With the first boat already sold into Salcombe, we expect to be seeing more of them very soon!
We are looking forward to attending similar events in the future. Follow us on twitter and Facebook to keep updated. We look forward to meeting you.