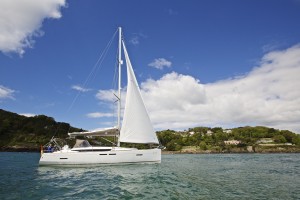 Salcombe is the 'must-sail-to' destination when you yacht charter in Devon, and just a 4 to 5 hour sail from our base location at King Point Marina, Plymouth. We want to ensure our guests have a great experience of sailing in the west-country, so we've put together some personal recommendations about places to moor, places to visit, and places to eat and drink. What else do you need from a yacht charter holiday?
Local area and Approaches – DSE recommends…
Salcombe, in our experience, has helpful and welcoming harbour staff. It pays to call on the radio before you reach the first set of swing moorings to ask for directions.
With regards to approaching from the west, there isn't much to concern you. There can be a significant swell just off Bolt Head particularly in a south westerly, but it can be avoided if you stay 2nm off shore. Most people just plough on through – but if you do, expect a bumpy ride.
From the East, the main issue is the Start Point race. If you're staying in close, depending on wind strength, you'll nearly always want to go with the strong tide or at slack. If you have a strong westerly then you may want to go at slack or a little tide against otherwise it will be a rough to very rough. Staying a few miles offshore makes life a lot easier… if adding an hour to your journey.
Much has been made of the Salcombe bar – in truth it's fairly benign. Staying close to the western side clears the bar even at low spring tide. The bar becomes dangerous when you have a strong southerly wind and an ebbing tide. If you're there in that situation you'll see breaking lines of waves all through out the entrance.
As always, the best place to check the up to date detail is the Reeds Almanac.
Moorings – DSE recommends…
Depends on the time of year and how much peace and tranquility you want! The main swing moorings are all located off the town, which is a busy in the summer and is an interesting place to be. High season, you'll raft 3 or so per can, you'll also have plenty of wash from the various boats and water taxis until late.
The Bag is a quarter of a mile or so away from the town and is generally quieter with floating pontoons. You can't walk ashore from these pontoons, but there is an efficient water taxi service.
Eating and Drinking – DSE recommends…
The Victoria is a fantastic, traditional pub on the main high street (and a personal favourite!) It offers spaces to sit and enjoy a pint and a packet of crisps as well as cosy areas to enjoy a wonderful meal and superb wines. With its large, sunny beer garden, it's an ideal place to visit as an adult only group or with families. We have always enjoyed great service from the staff.
The Winking Prawn is a well-established restaurant that overlooks North Sands. With a relaxed atmosphere and casual service, you can enjoy a buffet breakfast or scrumptious baguettes for lunch. The seafood platter is one of our favourites. We would also recommend heading down in the evening on a tender for the barbecue feast with lots of fish, meat and veggie delights.
Dick and Wills offers refined food in its bistro overlooking Salcombe Estuary. With its upmarket feel, this is the one that we save for special occasions. Because we love eating alfresco when we can, it is an ideal place to go to as it still offers the option to dine inside if the weather isn't as anticipated. We love the locally caught seafood, although there are plenty of meat and vegetarian options, too. Great service.
The Ferry Inn boasts great views from the edge of the estuary, making it an ideal spot for you to admire your yacht (which is likely to be moored close by) with a pint in your hand. We often pop in here for lunchtime cider in the sun – it can get busy on sunny days (peak and off-peak sailing season) because everyone else has seems to have the same idea.
The Forticue is a friendly 'locals' pub near the water. It's the place to go for live music and sports TV. We have always found the food to be good value and plentiful.
Things to do – DSE recommends…
I love to amble along the Fore Street when I am child-free and visit the wide range of independent shops that are scattered amongst some of the more high profile stores. Because of the old, narrow streets, pedestrians have priority, enhancing the shopping experience.
Visit one of the many unspoilt beaches Salcombe has to offer. North Sands and South Sands are easily walkable from the town centre. Alternatively, we like to jump in the tender and cross the estuary to East Portlemouth.
Our friends at the spectacular Salcombe Harbour Hotel can offer you a spa treatment after a challenging day on the water. Booking is essential, so it is worth checking out what they can offer before you arrive in Salcombe.