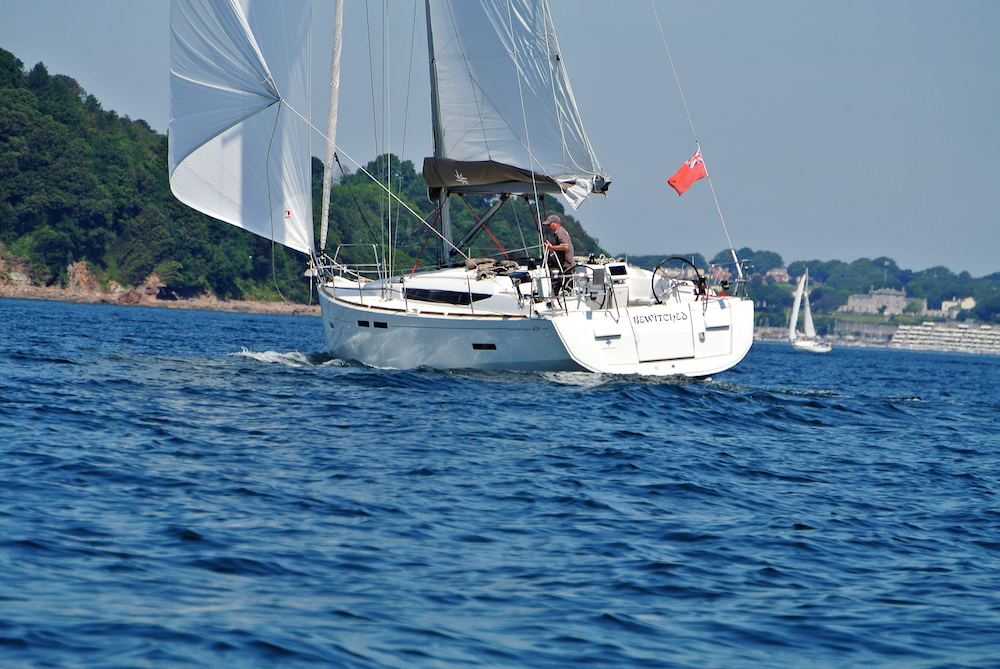 Special offer on 'Group Sailing Experiences' for 2018
Price per person reduced from £795 to £699
50% off for 2nd person when sharing a cabin

Following the success of our group sailing event in September, we are pleased to announce some newly scheduled dates for 2018 along with a price reduction.

With your own double cabin aboard our 40' yacht, our group sailing events offer an ideal 
opportunity for people who would like to sail a little furtherbut don't necessarily have the experience or inclination to head out on their own. They are also an ideal solution for those who have difficulty in coordinating sailing dates with crew or groups of friends.

We have currently scheduled the following group sailing events for 2018:
Sunday 17th June – Friday 22nd June
Sunday 9th September – Friday 14th September

The new price is £699 per person, which includes your own double cabin, breakfast and lunch onboard the yacht, skipper, and mooring fees. We can offer 50% off the new price for the second occupant of your double cabin – a cost effective way to bring a friend or partner.

To receive updates about our latest group sailing opportunities, get in touch and we will add your contact details to our database. It is a great way to connect you with like-minded people and just set sail with a skipper. There is no obligation to book and your personal details will not be passed to anyone else.

Thinking about the ideal Christmas gift?

Our sailing experience gift vouchers continue to be popular. With experiences to suit all levels of experience, we are bound to have the product that suits you.

Enjoy a bottle of Prosecco on us when purchasing a voucher for Christmas 2017!
(Exclusive and weekend charters only – see below for details)

Day sail vouchers are available from £99 per person. The price includes the cost of a fully-qualified and commercially endorsed skipper, as well as a light lunch whilst underway. Dates are listed on our sailing schedule.

Weekend sailing vouchers cost £299 per person. The price includes 2 nights accommodation onboard our yacht, breakfast and a light lunch whilst underway, mooring fees and skipper. When you purchase a gift voucher for this experience for Christmas 2017, we will put a bottle of Prosecco onboard for your first evening.

Exclusive day sail vouchers cost £499 for the day. You can invite your friends along for the day (up to 6 guests in total). Lunch is included, and we will also throw in a bottle of Prosecco for your party onboard the yacht if you purchase a voucher for Christmas 2017.

Weekenders and NEW 2-day sailing experiences

Due to the popularity of our weekend sailing experiences, we have scheduled exactly the same type event to run during the week – you will see them on our sailing schedule listed as 2-day sailing experiences. If you require any alternative dates that are not listed, please do not hesitate to get in touch – we will do our best to help.

Follow us on Facebook, Twitter and YouTube

Follow us on
Facebook
and
Twitter
to receive notifications when we update our
sailing schedule
. Our social media pages offer a great way to keep up-to-date with our latest opportunities and last minute availability.

Check out the drone footage we have just started adding drone footage to our YourTube channel (courtesy of CC Drones)
Thank you for your feedback

Thank you to all our guests who have kindly left TripAdvisor reviews and sent photos for us to use on our blog posts. We love to hear about your sailing adventures with
Devon Sailing Experiences
and feature them in our updates. If you have any photos you have taken or stories to tell from your time onboard one of our yachts, do let us know so we can share them with our followers.

We wish you all the best for the rest of 2017, and look forward to seeing you next season!

Nick, Katie and the Devon Sailing Experiences team.