Want to know more about the skipper who you sailed to Salcombe with? Are you interested in knowing about what drives your day sail skipper to do what they do so well? We've asked our Devon Sailing Experiences skippers a few questions to help you learn more about them and will be blogging their responses over the next few weeks.
First up – Trevor Kirkin.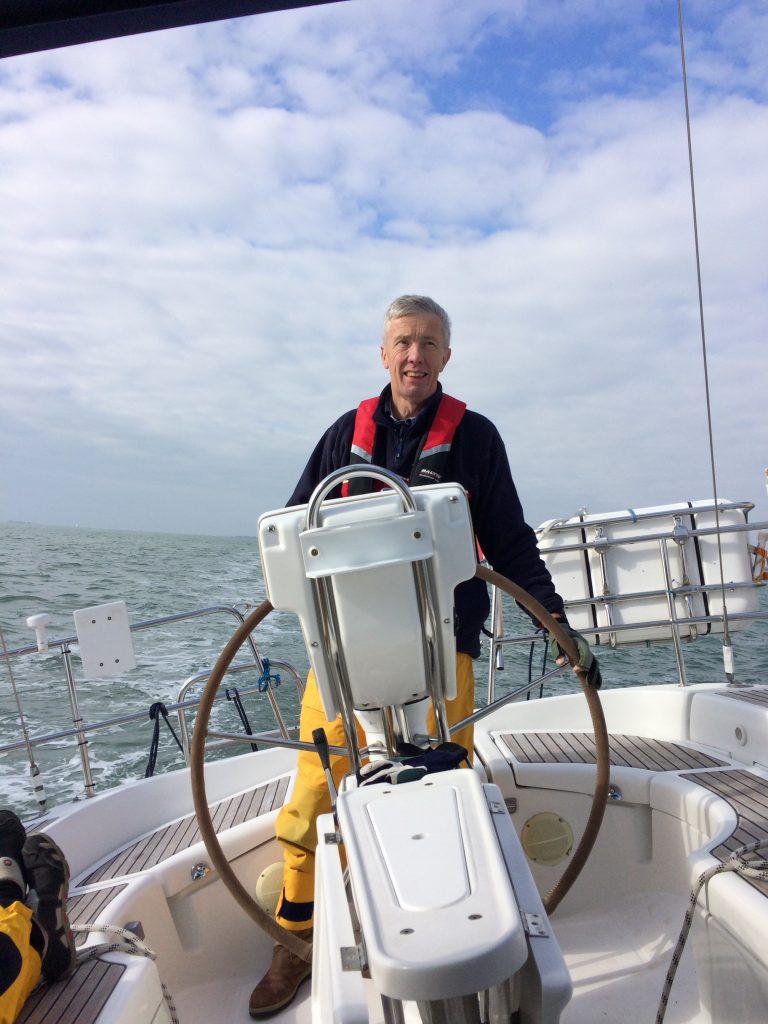 When did you first get the sailing bug?
Rowing my uncle's 8' clinker-built tender around Bosham harbour is my first, fond memory of boating and this quickly led to racing our 12′ Firefly on the Thames in London, with my father.

What is your finest sailing memory?
It was just a short hop from Duquesa (near Marbella) to Gibraltar, which brought a brilliant few days of coastal sailing to an end, but it ended in great hilarity! Motoring past Catalan Bay – a very light breeze was on the nose – thoughts of cool beers ashore growing stronger, we approached Europa Point and, with no warning, the Rock's notoriously turbulent airflow gave us 35 knots wind over the deck for about 10 minutes or so. This Force 8, in the uncharacteristic brilliant sunshine, succeeded in utterly drenching the helmsman (me) in spray to the great amusement of my chums under the spray-hood! However, with an ambient temperature of 28 degrees C, my tee-shirt and shorts were crisp and dry by the time we came alongside half-an-hour later!
What is your favourite sailing destination on the south-west coast?
It's a toss-up between Salcombe and Newton Ferrers, but on balance, the former wins! The approach to Salcombe is glorious; the welcome (from the Harbourmaster's staff) is always warm and helpful; the fairway, The Bag and Normandy Jetty (out-of-season) options cover most weather eventualities; the (new) SYC ablutions are luxurious and the choice of restaurants/pubs is broad. What more could you ask for? Well, actually, anything other than a strong southerly when clearing The Bar on departure!
What is your 'go-to' sailing meal when you are on the go?
Assuming we're stationary, it's Spag Bog (made in advance and heated up while the pasta cooks) with a glass of Syrah or Chianti. If on the move, fresh rolls or baguettes with cheese (no pickle) or paté, followed by Rombouts-style (proper) coffee. (The filter bit normally stays in the mug if made in the sink!)

Force 3 or Force 5?
 Call me soft, but Force 3 is enough! You can use any sail combination you like and there's scope for un-forecasted 10-knot gusts without it getting too uncomfortable.