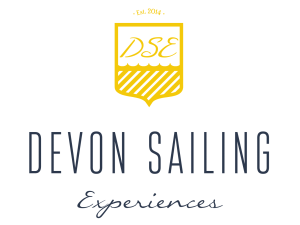 In line with the General Data Protection Regulations (GDPR), our Privacy Policy is detailed below. May 2018.
1. YOUR CONSENT TO THIS PRIVACY POLICY
If you undertake any of the following activities and provide personal data to us we will endeavour to make it clear why we need it and to obtain your specific consent to use it. You will be treated as having consented to our use of your personal data under the terms of this Policy if you have contacted us by telephone or email with an enquiry or provided any personal details to undertake a sailing experience, bareboat charter or RYA training course.
For the purpose of the Data Protection Act 1998 (the Act), the data controller is Devon Sailing Experiences, 16 Barton Brake, Wembury, Plymouth, Devon, PL9 0BJ. 
2. INFORMATION ABOUT YOU
We may collect and process the following data about you:
You may give us information about you by filling in forms on our website or by corresponding with us by phone, e-mail or otherwise. This includes information you provide when you do any of the following things:-
contact us by telephone or email with an enquiry;

book a sailing experience;

book a bareboat charter;

book an RYA training course;

subscribe to our newsletters.

The information you give us may include

your name, postal address, e-mail address and phone number, personal description and photograph;

the name, address, email address and phone number of your next of kin and/or emergency contact;

details of any relevant training records and training plans;

details of your relevant qualifications including the results of any examination, assessment or training course provided by us or by any recognised training centre and any accompanying notes and observations regarding your performance.

details of your participation and performance in sporting events and competitions;

details of any relevant boating, yachting or other seafaring experience you may have

health information including details of your age, sex, height, weight and any particular health conditions or mental or physical impairments you may have

any relevant dietary records and details of your dietary requirements.

Credit card and financial information. Please note that 

DSE does not hold or store any payment information. Payments are made via accredited payment processor (in this case, Square and Payment Sense)
If we have not heard from you after 5 years, we will contact you directly to check that you are happy for us to continue to store your details. If you do not agree (or if we do not hear from you) we will automatically delete all the information we hold about you.
3. HOW WE USE YOUR INFORMATION
We use information held about you:
to administer your sailing experience, bareboat charter and RYA training course bookings and payments.

to keep you updated about our own products and services. If you do not want us to use your data in this way, you may unsubscribe at any time. Your data is not passed on to a third party.
4. HOW WE MAY SHARE YOUR INFORMATION
DSE's data is hosted by TSO Hosting which stores information on secured servers in the UK. We will not normally share your information with third parties.
We may disclose your personal information to third parties:
in the event that we transfer, sell or buy any business or assets, in which case we may disclose your personal data to the prospective transferee, seller or buyer of such business or assets;

if we are under a duty to disclose or share your personal data in order to comply with any legal obligation, or in order to enforce or apply any contract or terms in force between you and us;

to protect the rights, property, or safety of DSE, our customers, members or others. This includes exchanging information with other companies and organisations for the purposes of fraud protection and credit risk reduction.
5. PASSWORDS AND PIN NUMBERS
Where we have given you (or where you have chosen) a password or PIN number which enables you to access certain parts of the DSE website, you are responsible for keeping the password or PIN number confidential. We ask you not to share passwords and PIN numbers with anyone.
6. YOUR RIGHTS
If we retain your personal data, you have the right to ask us not to process your personal data. You can exercise this right at any time by contacting us at info@devonsailingexperiences.co.uk
Our site may, from time to time, contain links to and from the websites of our partner networks, advertisers and affiliates. If you follow a link to any of these websites, please note that these websites have their own privacy policies and that we do not accept any responsibility or liability for these policies.  Please check these policies before you submit any personal data to these websites.
7. ACCESS TO INFORMATION
The Act gives you the right to access information held about you. Your right of access can be exercised in accordance with the Act.  Any access request may be subject to a fee of £10 to meet our costs in providing you with details of the information we hold about you. You can exercise this right at any time by contacting us at info@devonsailingexperiences.co.uk.
8. CHANGES TO OUR PRIVACY POLICY
Any changes we may make to our privacy policy in the future will be posted on our website and, where appropriate, notified to you by email. Please check back frequently to see any updates or changes to our privacy policy.
9. CONTACT
Questions, comments and requests regarding this privacy policy are welcomed and should be addressed to Devon Sailing Experiences, 16 Barton Brake, Wembury, Plymouth, Devon, PL9 0BJ or info@devonsailingexperiences.co.uk