Welcome to our Autumn 2018 newsletter.
Our extended sailing season has just come to an end – and what a busy year we have enjoyed. With temperatures hitting 29 degrees in the south-west, so many of you could see the advantage of being out on the water. As always, the Devon Sailing Experiences team worked extremely hard to offer the flexibility required to meet the demand.
Looking ahead to 2019, we have listed opportunities for next season below.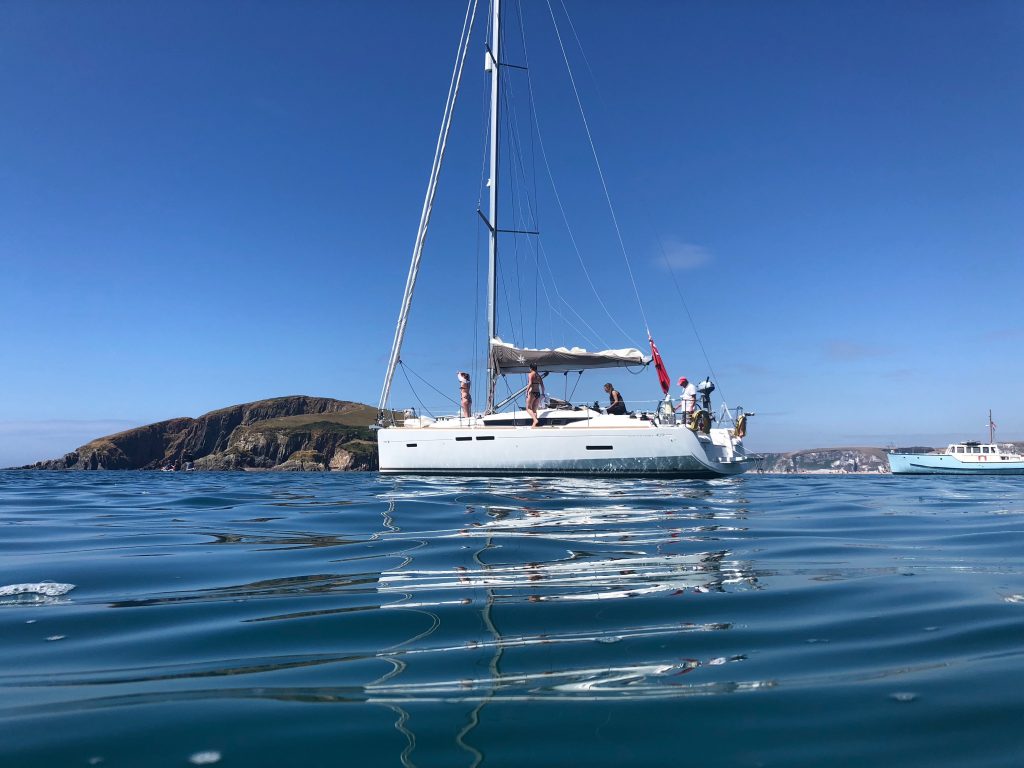 Our 2019 Sailing Experience Schedule
Dates for 2019 day sails and weekend sails are now listed on our sailing schedule page. You can now book your sailing experience directly from our website. More dates will be added throughout the season, but as always, if you can't see a suitable date just get in touch and we will do our very best to help you.
Our longer 5-day and 7-day group sailing experiences will be added to our sailing schedule on demand. This sailing experience is ideal for those wishing to develop their skills, build miles or enjoy an active holiday. Follow the links to our website for further information about this sailing opportunity.
Discounts available for cabin-sharing when booking 2 or more places on our group sailing experiences.
Sailing Experience Gift Vouchers
Whether you are searching for the perfect Christmas gift or dropping hints about your own upcoming birthday, our sailing experience gift vouchers are a great choice for active and adventurous people. With vouchers for day sailing and weekend sailing experiences available, they provide a memorable day out on the water surrounded by the natural beauty of Devon.
Order your day sail voucher or weekend sail voucher directly from our website.
Sailing experiences must be booked within 12 months from the date of purchase. Please bear in mind that as we approach the end of the season (September/October) fewer dates will be available due to weather and sailing conditions.
RYA Sailing Courses
2018 saw the first of our successful RYA Day Skipper and RYA Competent Crew courses.
With a 3:1 student to instructor ratio, our students were given plenty of hands-on experience and opportunities to develop and master their skills. Our highly experienced Chief Instructor ensured safety as well as enjoyment throughout the training – and we also hear he is a wonderful chef! What more could you ask for?
RYA courses are scheduled on demand. You are very welcome to request a date to be added to our schedule, but please bear in mind that we are only able to run a course with a minimum of 3 students. All courses are subject to yacht and instructor availability. Contact us directly to request a date.
Bareboat Charter
2019 will be the first year we have needed to increase the prices of our bareboat charters. However, we can also increase our returning customer discount on bareboat charters from 5% to 10%. We are starting to receive bookings for 2019 already, so if you are thinking about bareboat chartering with us again, it may be worth getting in touch with us now to avoid disappointment. The new prices are now reflected on our website.
Check us out on Tripadvisor
Thank you to everyone who has taken the time to review Devon Sailing Experiences on Tripadvisor. Your feedback not only helps us improve, but also provides future guests with vital information about what to expect, helping them to decide if what we offer is right for them. If you haven't already reviewed your sailing experience for 2018, it is not too late.
Follow us on Facebook, Twitter and Instagram
Our sailing schedule is constantly evolving. Every time we add additional dates and sailing opportunities, we send notifications via our Facebook, Twitter and Instagram accounts. Make sure you follow us to receive immediate updates including information about last minute availability.
We also love to receive emails and messages about your sailing adventures with Devon Sailing Experiences. If you have any photos you have taken (or stories to tell) from your time aboard one of our yachts, we would like to share them on our social media pages and in our blog posts. We never mention names or dates in our posts, but your photos are great to use alongside our narrative. Please keep in touch and email anything you are happy for us to use.
All the very best for the rest of 2018.
We look forward to welcoming you to Devon in 2019.