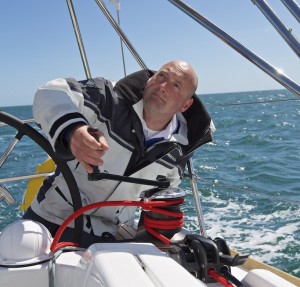 "I like the idea of it, but have never tried sailing before and I'm not sure how to get into it."
If this applies to you or someone you know, Devon Sailing Experiences has the perfect opportunity for you.
Roy, who was new to sailing and is now one of our regular guests, first booked a day sail from Plymouth with exactly that thought in mind. He explained that he liked the way that a day sail from Plymouth with Devon Sailing Experiences meant that he could take part in as much (or as little) sailing as he liked. His experienced skipper took full responsibility for the safety of the yacht, while encouraging his enthusiasm to learn how to hoist a sail, take the helm, tack and jibe. That was it for him – from never trying sailing before he was immediately hooked and now regularly checks our sailing schedule (and requests his own dates) to come out with us.
Whilst taking a break in the South Hams, Katherine saw a day sail from Salcombe advertised and brought her 8-year-old daughter along. Both of them were new to sailing and had never tried sailing before. It was ideal for them; their skippered yacht charter enabled then to be picked up from Salcombe first thing in the morning and they returned to exactly the same spot after a fun-filled day on the water (with a lunch stop at a local anchorage). They shared some great action-packed photos with their friends on Facebook.
Day sails are not the only option for those new to sailing. A weekend skippered charter from Plymouth or Salcombe means that our guests have the opportunity to immerse themselves in a sailing experience. Louise and Malcolm booked a skippered weekend charter from Plymouth. They commented on how amazed they were with the level of comfort (Egyptian cotton bedding and towels, on-board heating, entertainment system) and the quality of the yacht (a new 2015 Jeanneau 409).
And you don't need to invest in any specialist gear to try out sailing. We just ask our guests to bring non-marking footwear (everyday trainers will do), warm and waterproof clothing (everyday clothing for living in the UK)
If you (or someone you know) like the idea of sailing but have never tried it before, why not purchase a voucher for a skippered yacht charter from Plymouth or Salcombe? We have something for everyone. Vouchers are available from the Devon Sailing Experiences website, or they are now available on the Red Letter Days website.