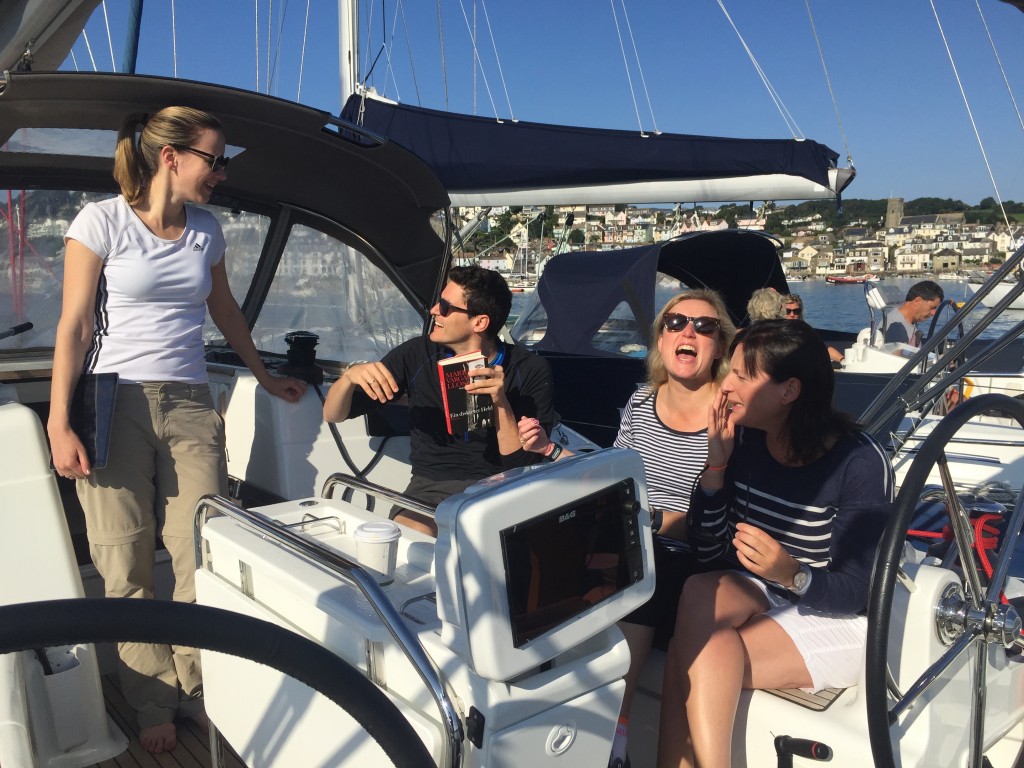 Looking to take part in one of our group sailing opportunities during 2017? We have just scheduled a 5-day sailing holiday along the south west coast for 3rd – 8th September 2017.
With your own double cabin (one en-suite) on-board our 40' yacht, our group sailing events offer an ideal solution for people who would like to sail, but don't necessarily have the experience or inclination to head out on their own. They are also an ideal solution for those who find it difficult to coordinate sailing dates which are convenient for their own crew or groups of friends.
Here is a very brief guide to a typical 5-day group sailing holiday experience:
Arrive at King Point Marina on Sunday evening where your skipper will show you around our flagship yacht, Bewitched. You may choose to meet up with the rest of your group for drinks and dinner at The Dock, a wonderful restaurant overlooking the marina, or you may decide to head to the Barbican or Royal William Yard to choose from a selection of pubs and restaurants for your evening meal. After a good night's sleep onboard the yacht, set sail for your first destination….
…and that is where the plan ends!
How your week continues depends on the wind, the tide, and how far you would like to go. There are plenty of destinations available on our 5-day sailing holidays to explore – you can read about them here. Wherever your sailing takes you, we will ensure you are back in Plymouth by 4pm on Friday, with plenty of time to catch your train home for the weekend.
No previous sailing experience is necessary, as your fully-qualified and experienced skipper will encourage you to take part in as much (or as little!) helming and yacht management as you choose.
The price at £795 per person includes the cost of a fully-qualified skipper, 5 nights accommodation onboard the yacht, your own double cabin, mooring fees, breakfast and lunch whilst underway. Evening meals and meals taken ashore are not included. If you are booking with a friend or partner and are happy to share a double cabin with them, the 2nd person travels at half price.
Please note that this sailing experience will only run with a minimum of 3 guests booked onboard (a maximum of 5 guests).
If you have any questions about this wonderful opportunity, or if you would like to book, please do not hesitate to contact us for more information.