If you have ever experienced one of our sailing days from Plymouth, you will have probably met Mike. This week, it is his turn in the hot seat in our series of interviews with the skippers.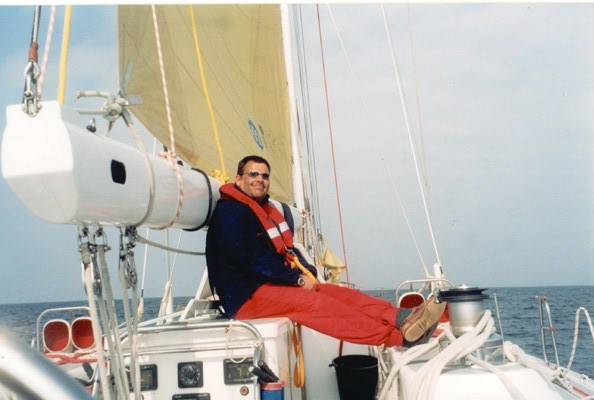 When did you first get the sailing bug?
Like most people living near the coast, I got into dingy racing as a kid. Whilst getting into sailing was always an aspiration, my career as a marine engineer in the Royal Navy often precluded the free time. It wasn't until I found myself running the outboard motor workshop at the RN seamanship school that I really had the opportunity to get back into the sport. I was soon teaching both sailing and powerboating to naval recruits, where I discovered a really enjoyable skill set.

What is your finest sailing memory?
It was with a naval yacht that I had one of my best sailing experiences – helming a Challenge 67 from Majorca to Barcelona in a good Force 10 blow when everyone else turned in with mal de mer. But sometimes there is as much enjoyment in the first time the engine is switched off and you start to feel the boat lifting under sail alone. One of the beauties of sailing is that there are always small pleasures to be had for everyone involved in the process – whether it is hoisting a spinnaker well, learning a bowline or just managing to make a cup of tea on one of DSE's sailing days.

What is your favourite sailing destination on the south-west coast?
I have to say Fowey. It is the quintessential Cornish town which always provides a great welcome. Also, as a Cornishman, it would be disloyal to recommend anywhere east of the Tamar!

What is your 'go-to' sailing meal when you are on the go?
There is a lot to be said for the traditional Royal Navy meal Pot Mess. The ingredients are not a closely guarded secret – it consists of a suitable selection of tinned foods left to slow cook on the hob. My personal twist is the addition of marmite and ketchup to the gravy mix.

Force 3 or Force 5?
I suppose the answer to that one is always going to be force 3. It's great to have experience of sailing in heavier weather, but it's also nice when it stops.