Welcome to our May 2018 Newsletter
In this May edition of our newsletter, we bring you news about Devon Sailing Experiences becoming a recognised RYA Sea School, sailing opportunities for 2018, our new sailing schedule and links to our social media pages to help you keep up-to-date with our latest events. We have also included information about DSE and the new GDPR.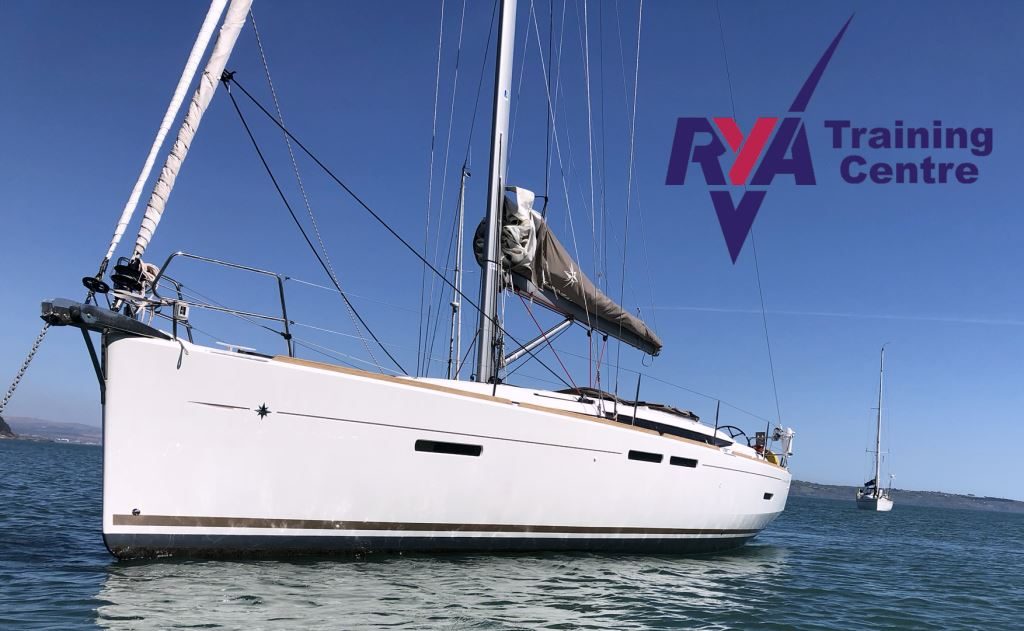 Devon Sailing Experiences is now a recognised RYA Sailing School
We are pleased to announce that DSE has expanded its offering to become a recognised RYA Sailing School. After a thorough inspection by the RYA, we have been certified to offer official RYA training courses, providing an ideal opportunity for guests who have enjoyed their sailing experience to take their new interest one step further.
Nick Rich continues to be the Director of DSE, and has taken on the additional role of Principal. Tim Sunderland, formerly of Brixham Sea School, becomes our Chief Instructor. Mick Chantler, who many of our skippered charter guests have already met, is also a qualified instructor and will run some of our training courses. He will continue to skipper on our day, weekend and exclusive sailing experiences.
We are pleased to say that Gail Wright, Mike Eggins, Trevor Kirkin and Neil Murray will continue to skipper our sailing experiences which are growing in popularity; they provide a less formal introduction to sailing as part of your holiday or mini-break in Devon. Katie Rich will still be dealing with your bookings and enquiries.
Our high-quality yachts will continue to be unbranded (ie, no logos pointing out that you, our guests, are aboard a training or holiday vessel).
This is an exciting opportunity for us, and we hope that this extra offering will be of interest to our past guests as well as guests we are yet to meet.
What is happening in 2018?
Listed below are all the opportunities on offer for 2018 with links to our information pages. With our new and improved online booking and payment system, booking your experience or course has just got easier. Don't forget – we can always add dates if you can't find one that is suitable.
Experiences
Our sailing experiences are ideal for all levels of sailor, from beginner to seasoned. They offer an informal opportunity to get out on the water and experience hands-on sailing without any pressure or time commitments. All our sailing experiences are skippered by a yacht-master offshore, commercially-endorsed skipper.
Day Sails, Weekend/2-day Sailing Experiences, Sailing Vouchers, Exclusive Charters, Group Sailing Experiences.
Our scheduled 7-day sail to the Isles of Scilly is now fully-booked, however, we are happy to schedule another date on demand. If this is of interest to you, just get in touch and we will discuss availability.
RYA Training Courses
Our RYA training courses offer officially recognised qualifications are run by fully-qualified Instructors. There are minimum requirements for some of the training courses, so please refer to the details listed on our website.
RYA Start Yachting, RYA Competent Crew, RYA Day Skipper Practical, RYA Day Skipper Combined, RYA Coastal Skipper.
RYA Shorebased courses will be available at a later this year.
Bareboat Charter
We we are almost completely booked out for our bareboat charters this year. However, we do currently have limited availability in May, June and August. Do get in touch if you would like to book – we sometimes have cancellations so we will do our best to help you where we can.
Our Sailing Schedule
You will find all our current sailing opportunities listed in our sailing schedule.
We are always adding dates throughout the summer, so don't forget to check it regularly. Notifications of new dates are announced on our Facebook page and in our Twitter account. As always, if you can't see a suitable date, just get in touch and we will do our very best to help you.
We've just added the late May Bank Holiday weekend to our schedule (26th, 27th and 28th May) and to celebrate we will be including wine with lunch on our day sailing experiences. Book now while places are available.
Getting Social
We can't wait for you to start sharing your photos of your 2018 yacht charter with Devon Sailing Experiences. Follow us on Facebook, Twitter and Instagram to hear about our latest news and events, and please continue to tag us in your own photos. (Don't forget to add #DevonSailingExperiences to any of the photos you share on Instagram, too.)
DSE and The New General Data Protection Regulation (GDPR)
As part of our customer service and to enable us to effectively deal with your enquiries, we need to hold some information about you on our customer database. This is information that you have given to us.
The new General Data Protection Regulation (GDRP) means that from 25th May, we need you to confirm that you are happy for us to store your contact details. Our Privacy Policy describes the information we may need to keep about you, why we need it, and how long we will store it.
If you wish to be removed from our customer database, you may email us (info@devonsailingexperiences.co.uk) at any time. You may also reply to this email and type UNSUBSCRIBE in the subject box. If you do this, we will remove any information we currently hold about you from our database.
Haven't been in touch with us for a while? Then in line with our Privacy Policy, we will contact you directly to check that you are happy for us to continue to store your details. If we do not hear from you at this point, we will automatically delete any information we hold about you.
Please be aware that if we delete your name and contact details, you may not be able to claim our returning customers discount (where applicable) and will no longer receive our newsletters. So, if you want to continue to hear about our exciting sailing opportunities, look out for and respond to that confirmation email.
Here's to an exciting sailing season in 2018. We are all looking forward to welcoming you to Devon soon.
Nick, Katie and the Devon Sailing Experiences team.