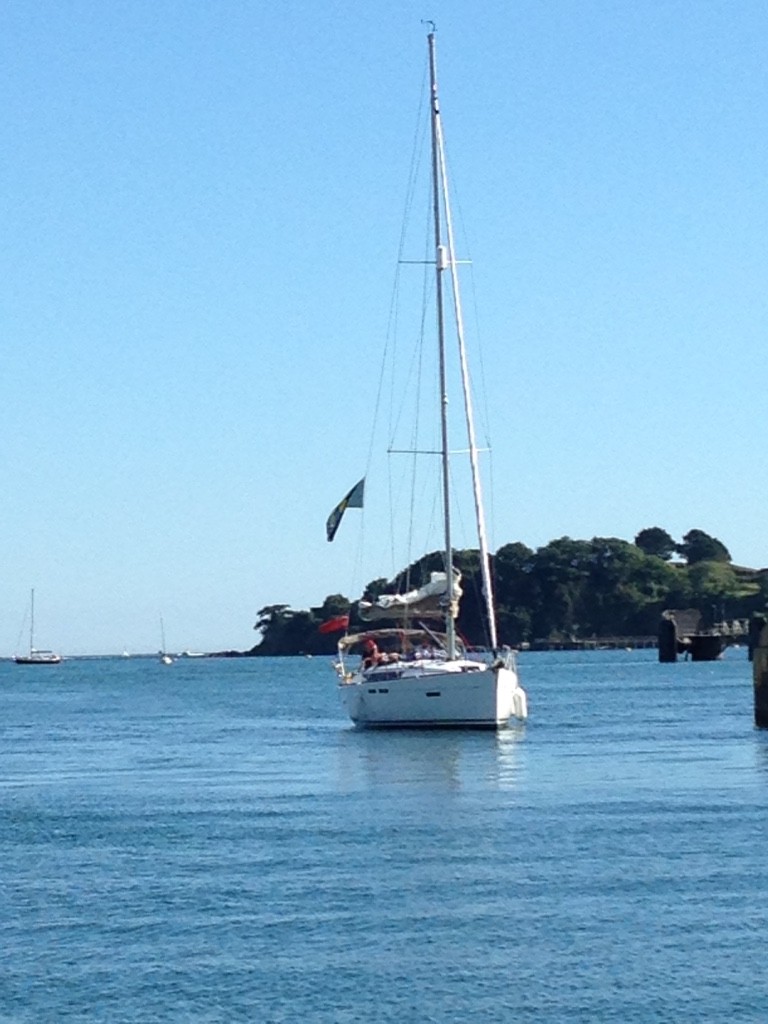 Our Fleet
Our fleet continues to expand! Our newest addition is a Bavaria 38, Barbarossa. This spacious yacht offers 3 double cabins, TV, DVD player, teak cockpit and side decks, 4 winches and Raymarine electronics. She is available for bareboat charter from Mayflower Marina, Plymouth.
Our Dehler 34 (Troppo Bella) is newly coded. She is our only yacht on the River Dart and is now available for bareboat charter – an ideal location for guests who wish to attend Dartmouth Regatta. We recommend accessing her from Kingswear Marina, where good value parking and a water taxi service is available.
In addition to Barbarossa and Troppo Bella, we continue to operate the following yachts: Jeanneau 409 (Bewitched), Jeanneau 36i (Spellbound), and Stefini rpd66 (Disco Volante – skippered charters only). All of these yachts can be chartered from King Point Marina, Plymouth. Details about each of them can be found on our website www.devonsailingexperineces.co.uk
Local regattas and events
8th July to 21st August – Nao Victoria
An exact replica of the first ship to ever sail around the world is making its first ever visit to the UK this summer and will be at Sutton Harbour. The Nao Victoria is an exact replica of the 16th century original at 27 metres long with three masts, four decks and 290 square metres of sail. Visitors will be able to board the Nao Victoria from 10am until 7pm every day with tickets.
7th to 12th August – Salcombe Regaatta
For up-to-date information and a build-up to the regatta (including photos of the amazing fireworks in previous years), check out Salcombe Town Regatta's Facebook page – https://www.facebook.com/SalcombeTownRegatta/?fref=nf
20th to 23rd August – Torbay Royal Regatta
A spectacular event with races, displays, funfairs and fireworks. Timings and details can be found here: http://www.torbayroyalregatta.co.uk/
25th to 27th August – Dartmouth Royal Regatta
Another not-to-be-missed event! Music, food, exhibitions, shopping, fireworks and air displays. Further information can be found here: http://www.dartmouthregatta.co.uk/
Payments
We are now able to take pre-authorised card payments for security deposits. If you wish to pay your security deposit this way, please telephone the office ahead of your charter. We will need to take an administration charge of £10 if you choose to pay this way. There will be no charge for direct bank account transfers.
Twitter and Facebook Accounts
Got some great photos or video footage from your charter? We would love to see some so please keep in touch and send us anything you would be happy for us to share via our blog posts. Follow us on Facebook (https://www.facebook.com/devonsailingexperiences/) or Twitter (@devonsailingexp) to keep up to date with events and availability for bareboat or skippered charters.
Sailing Schedule
We are constantly updating our sailing schedule by adding day sails and weekend sailing experiences. Details can be found here: http://www.devonsailingexperiences.co.uk/devon-sailing-schedule/ If you can't see a date that is suitable, do get in touch and we will do our best to accommodate your requirements.
Returning Customer Discount Scheme
Don't forget  – we offer a 5% discount to customers who re-book charters with us.
Enjoy the rest of the sailing season. We hope to hear from you soon.
Nick and Katie Rich
Web: www.devonsailingexperiences.co.uk
Tel: 01752 424514
Twitter: @devonsailingexp