March 2020 Newsletter
With the 2020 sailing season about to start for Devon Sailing Experiences, we are excited to update you with our plans for the year. In addition to our current availability, read about how we have made a pledge to reduce single-use plastic in 2020 and how we are now an ICC assessment centre.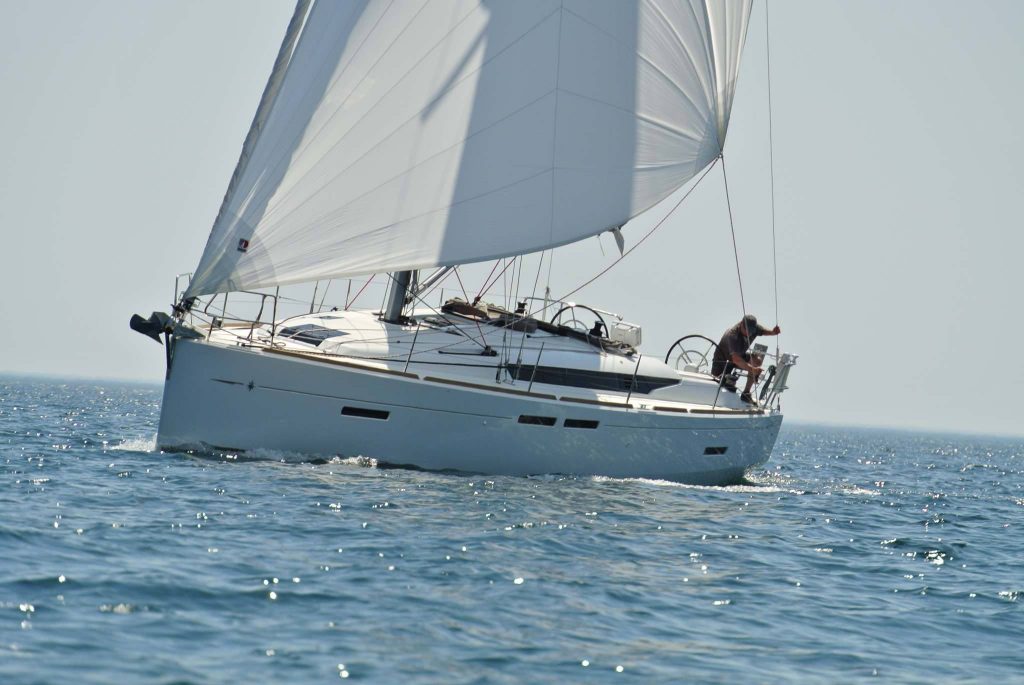 Day and Weekend Sailing Experiences
Our day and weekend sailing experiences continue to top the popularity chart with a number of dates becoming fully booked already. Throughout the season, we are frequently adding additional dates to our sailing schedule to meet demand, so do remember to check back regularly.

If you were lucky enough to receive a voucher as a gift, don't forget to book your date as soon as possible. Vouchers are valid for 12 months from the date of purchase; you must book a date before your voucher expires. Due to weather and sailing conditions, our normal sailing season is April – September (only extended each side if the weather permits). As always, if you cannot see a suitable date, do get in touch and we will do our very best to help you.

Bareboat Charters for 2020
Our Bavaria 38 is relocating to Queen Anne's Battery from April 2020. With 3 double cabins and a spacious saloon area, she makes an excellent yacht for families and groups of friends looking to explore the southwest coast for a week or long weekend.

Limited availability remains for May, June and August, therefore we recommend getting in touch sooner rather than later to secure your chosen charter dates. A 20% deposit is required to secure a date for you, with the remaining payment due 4 weeks before you sail.
Don't forget – we offer a 10% discount on bareboat charters for all returning customers.

If you would like to request a date, please get in touch.

International Certificate of Competence (ICC)
Devon Sailing Experiences is now a recognised RYA assessment centre for the International Certificate of Competence (ICC).

If you are planning a sailing holiday charter abroad*, you will need an ICC.

Before booking your ICC assessment you will need to ensure your sailing and navigation knowledge is up to speed (to the level of Day Skipper practical and theory). We recommend looking at the RYA Day Skipper Handbook or attending our RYA Day Skipper (Practical) course. Further information can be found on our ICC assessment page.

* Please check specific requirements for the country you are visiting with your charter company.

RYA Courses
We currently have 2 double cabins available on our RYA Competent Crew and RYA Day Skipper (Practical) course from Monday 13th April – Friday 17th April 2020. You are welcome to join us aboard our Jeanneau 409 at King Point Marina the evening before you set sail. You will have your own double cabin (unless you choose to share) with no single traveller supplements.

For RYA Day Skipper, do check the pre-course requirements before booking your place. If you do not currently hold the prerequisites, you are welcome to join this course to log miles and gain experience before undertaking a course at a later date.

There are no pre-course requirements for RYA Competent Crew. This particular course is not suitable for under 18s.
If you would like any further information, do get in touch.

Plastic Free Plymouth
We are pleased to announce that we have signed a pledge with Plastic Free Plymouth – Surfers Against Sewage to help us to reduce our use of single-use plastics (SUPs) from March 2020. You can read more about it and what it means for Devon Sailing Experiences in our blog post Our Pledge to Plastic Free Plymouth.

Environment Plymouth explains that "It's not about removing all plastic from our lives. It's about kicking our addiction to avoidable single-use plastic."

You will notice some small changes when you join us for day and weekend experiences to enable us to initially target 3 areas. We look forward to welcoming your feedback and discussing any ideas that you could share to help us improve.

Terms and Conditions of Booking
By booking with Devon Sailing Experiences, you are accepting our Terms and Conditions. Please ensure you have read these before booking. We politely draw your attention to the paragraph regarding cancellation and rescheduling. If you are unsure about any aspect, please feel free to ask – we will always do our very best to help you.

Follow us on Facebook, Twitter and Instagram
Keep up to date with last-minute availability and stories from our skippers and guests by following us on Facebook, Twitter and Instagram. Don't forget to tag us in any of your own posts; we love to hear about your sailing adventures so if you have any photos you would like to share (or stories to tell) do get in touch.

We look forward to welcoming you to Devon soon.