Looking for the ultimate gift for Christmas 2018? We've got it covered. Here are the reasons you should be giving the gift of sailing with a Devon Sailing Experience gift voucher.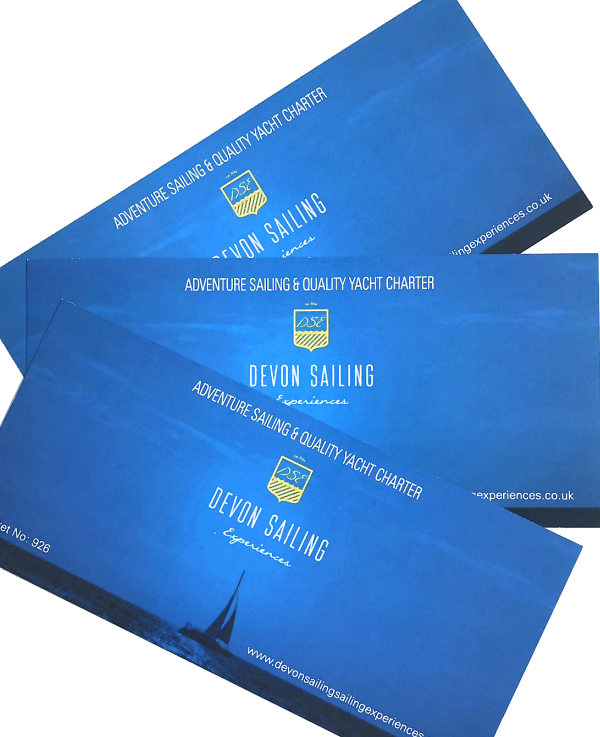 Something to look forward to in the new year
It is always lovely to receive a thoughtful gift, but once you've opened it – well, that is it. With a sailing gift voucher, you still get the excitement of opening the gift but the added bonus of checking out our website for a date that works for you and booking a date for Spring/Summer of 2019.
Flexibility
Gift vouchers are available for a range of experiences including Day Sails, Weekend Sails and Exclusive Charters. They are valid for 12 months from the date of purchase, so need to be booked within the timeframe before they become out of date. Our sailing schedule offers a huge choice of dates between April and October, and the schedule is continuously updated throughout the year. (Follow us on Facebook and Twitter to ensure you receive up-to-date notifications.)
Relax and be active at the same time
Research has shown that both nature and exercise are good for our physical and mental health. (You can read NHS and BBC reports by following the links). Onboard a yacht, you may feel yourself relaxing as you breathe deeper with fresh air filling your lungs. Later that evening, you may feel tired from the sea air or a slight ache in your body where your core muscles have been working out without you even realising. (Personally, I find the lack of phone signal the biggest benefit! KR)
Try something new or rediscover the love of a forgotten hobby
Whether the recipient of your gift voucher is new to sailing or they are experienced but haven't sailed for a long time, we have something to suit everyone. Our highly experienced commercially endorsed skippers will ensure everyone has as many (or as few!) hands-on opportunities as they choose.
Spend time, not money
"Time spent is priceless". It's not my quote, but I read it somewhere. Sharing a day or weekend out with a loved one aboard one of our yachts will create some wonderful memories. We are not suggesting that you do the same thing, but you can read about the wonderful memories made with a marriage proposal aboard our yacht in 2018. Alternatively, the recipient of the voucher may wish to spend extended time at sea by upgrading to a group sailing experience. You can read an account of our June 2018 group sailing adventure adventure here.
A high-quality and reputable company
Don't just take our word for it – take a look at our Tripadvisor reviews.
Easy to buy
Purchase online by following the links below. If you would like to discuss options, just call Devon Sailing Experiences on 01752 424 514.