Many of us are looking to have a little more environmentally friendly Christmas this year, and Devon Sailing Experiences may just have a solution if you are looking for an environmentally friendly Christmas gift. The answer is a gift voucher for a Day Sail or Weekend Sail.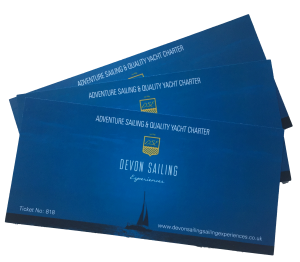 Listed below are the points that make a gift voucher for a Day Sail or Weekend Sail a great gift for you or your loved one, whilst looking after the planet.
No Christmas wrapping paper.
When you order a Christmas sailing gift voucher, we will post your card voucher to you or direct to the recipient of the gift. As it is made of card, it can be easily recycled. You can present the gift in a paper envelope so there is no need for Christmas wrapping paper which may have hidden plastics inside. If you would prefer to not even receive a paper voucher (to cut down even more on waste and postage) we can simply email your confirmation which just assigns a booking reference. (You will need to state this preference when you purchase your voucher online.)
Sailing is an environmentally friendly mode of transport.
Greta Thunburg (environmental activist) chose sailing as her mode of transport to take part in the UN Sumit in August this year, and we know that she would have meticulously carried out her research. Greta made the non-stop 2-week voyage in a 60' yacht, choosing this method of travel over flying and cruising. The only difference is that the yacht Greta sailed aboard (Malizia II) was stripped down to the basics – Devon Sailing Experiences will continue to offer you the luxury of onboard toilets!
Wind is a naturally occurring source of power.
Sailing is all about letting the wind fill your sails and using this natural power source to travel and enjoy the beautiful coastline that Devon and Cornwall offer. Although a diesel engine is required to enter and leave the marina, our ultimate aim is to sail for as much time as the weather permits. (It is worth noting that even Greta's yacht had an engine on board for safety purposes.)
We are actively trying to reduce our single-use plastic
Devon Sailing Experiences is pledging to take steps to reduce our single-use plastic. You can read about our first step for 2020 here: How we are trying to reduce our single-use plastics. 
Dockside facilities to reduce waste
Our guests are encouraged to use the dockside facilities when mooring overnight. This means making proper use of recycling bins and using marina toilets/showers to avoid waste going straight into the sea, as well as using mooring buoys instead of anchors (where there is a chance of disturbing natural habitats).
Feel closer to nature
Our natural environment is not only visually stunning but supports life and therefore needs protecting. There is no denying the positive effect of being close to water; research has shown that bringing nature into your life can benefit your physical and mental wellbeing. There is no better way than sailing to give you the space to escape your day-to-day pressures and direct your thoughts towards how beautiful our surroundings are and appreciate how important it is to protect it.
We can't think of a better gift for Christmas 2019.